Brand:

Essence

SKU
ESSCKUS
Net weight
1.2 g
PAO shelf life

36M

Composition
HYDROGENATED VEGETABLE OIL, HYDROGENATED CASTOR OIL, SYNTHETIC FLUORPHLOGOPITE, PARAFFIN, MICA, TALC, TOCOPHEROL, SORBITAN TRISTEARATE, POLYETHYLENE,

CITRIC ACID, CI 77491 (IRON OXIDES), CI 77492 (IRON OXIDES), CI 77499 (IRON OXIDES), CI 77891 (TITANIUM DIOXIDE)
Soft Contouring Lipliner by Essence. Lip liner. It has a heavily pigmented, silky formula that guarantees smooth and matte finish. Delicate, soft texture adheres perfectly to skin, keeping each lipstick in check. It can be applied over the whole lips, while adding them volume. Thanks to the wide range of colors, each woman will find the right shade for herself.
Lip liner.
Matte finish.
Delicate, soft texture that adheres well to skin.
Available in many shades.
Return or exchange
This product can be returned or exchanged within 14 days of the receipt. (Check details)
---
Shipping
The cost of delivery to the country United States, from $5.18 -Polish Post - registered letter (depending on the weight of products), we ship the products in the warehouse in 24 hours. (Check details)
Recently viewed products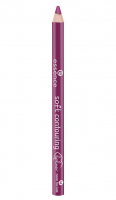 (46)
Get points and buy cheaper!
Registered users can join our loyalty program, a reward system based on points. You can earn points and turn them into a shopping discount. Have a look at the list of activities that earn your points.
Details